ASIAGO KALE CHICKPEA WRAPS
---
Everyone can appreciate a good wrap. What's not to love about wrapping up a bunch of delicious food into a tortilla? The more complementary flavors and textures, the better! This Asiago Kale Chickpea Wrap recipe comes courtesy of the good folks over at Love and Lemons and combines tart vinaigrette with mild avocado, subtle chickpeas and bold asiago, and the crunch of croutons and brussels sprouts with the soft tortilla. If you're a fan of wraps, we strongly recommend you get this going by picking up a bag of our Asiago Chopped Salad Kit made with tender kale, shaved Brussels sprouts, radicchio, aged Asiago cheese, Parmesan garlic crouton crumble, and a tangy lemon vinaigrette.
Ingredients
1 (14-ounce) can chickpeas, drained and rinsed

1 ripe avocado, sliced

4 extra-large tortillas

Sea salt and pepper
Directions
In a medium bowl, use a potato masher to smash the chickpeas with 1/3 of the dressing from the kit, 1/2 teaspoon salt, and freshly ground black pepper.

In another medium bowl, toss the salad greens with 1/3 of the dressing.

Assemble the wraps by layering the chickpea mixture, salad greens, asiago cheese from the salad kit, and avocado slices.

Wrap, roll, and enjoy! Serve with the remaining dressing on the side for dipping.
Chickpea Appreciation Time
Chickpeas have been around for quite a while when they were first cultivated in the Middle East. Once people realized how tasty and versatile they were, chickpeas quickly spread in popularity to places like Greece, Rome, and Egypt. And they really haven't slowed down since, as the mighty chickpea remains one of the most widely consumed crops on the planet. And depending on where you find yourself on this planet of ours, you may also see chickpeas referred to as garbanzo beans, Bengal grams, Egyptian peas, ceci beans, or kabuli chana.
Most people know chickpeas from being the primary ingredient in traditional hummus, but that's far from their only culinary use. You can roast them, use them in soups, salads, plant-based burgers, add them to rice and pasta dishes, or mash them up and spread them on a sandwich (or in a wrap, like this recipe). You may also encounter chickpea flour in your grocery store, typically near all the other flour alternatives.
But chickpeas are not only rich in history and versatility; they're also packed with protein, fiber, and folate, making them a go-to choice for a satiating, plant-based protein. In fact, chickpeas are a complete protein, meaning they contain all nine essential amino acids.
So, there you have it. We hope this recipe helps you appreciate the wonders of chickpeas well beyond hummus. (Nothing against a dollop of delicious hummus, but chickpeas are capable of so much more!) Enjoy!
TRY MORE RECIPES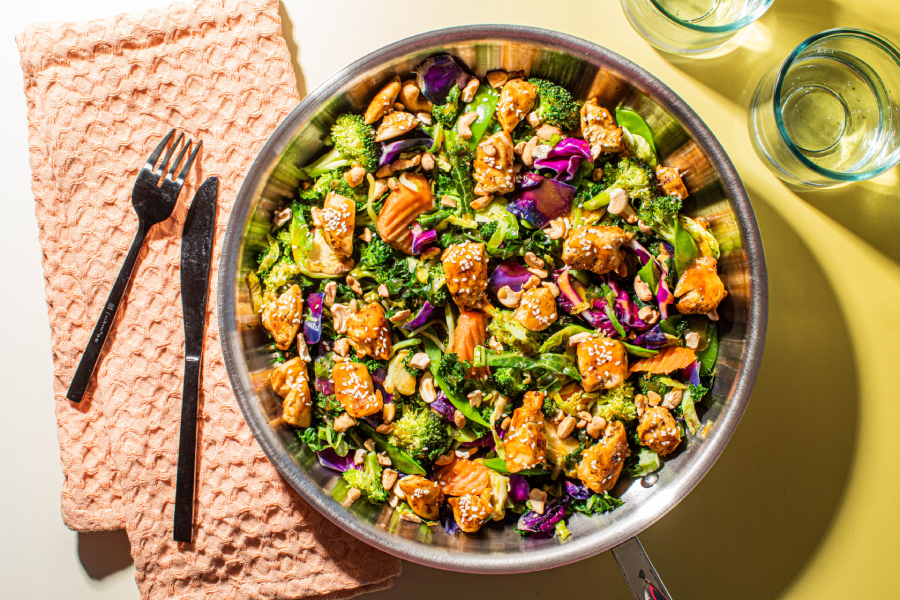 Whip up a veggie-laden keto recipe in a few minutes using cubed chicken breast and our Keto Teriyaki Cashew Saute Kit.
See Recipe
Check out this ​​loaded salad recipe made with our Avocado Ranch Chopped Kit for a plant-based meal that's full of nutrients.
See Recipe
This delicate Strawberry Rosé Shrimp Salad features our Strawberry Rosé Chopped Salad Kit, fresh figs, and creamy goat cheese.
See Recipe