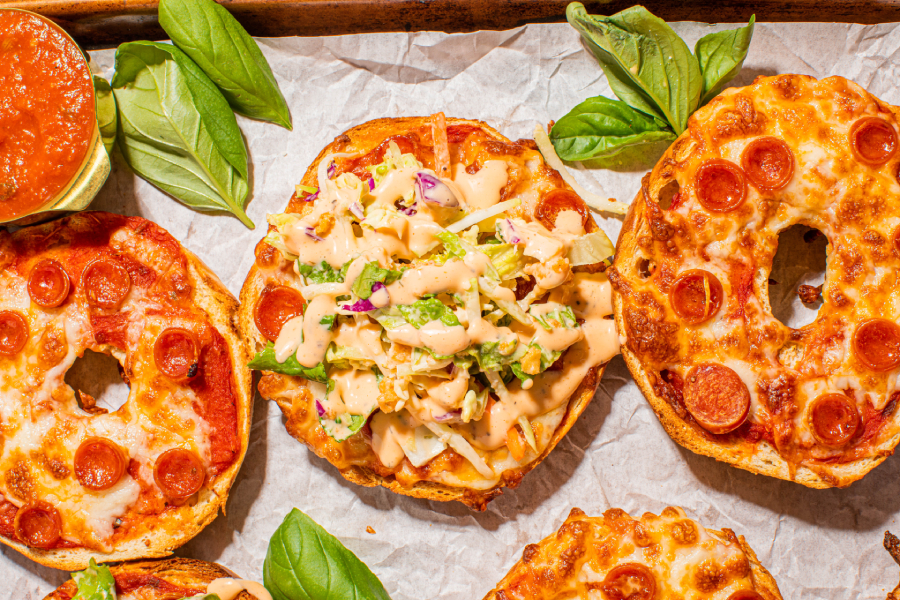 AIR FRYER PIZZA RANCH BAGELS
---
Craving pizza night? Bored by pizza night? Try this creative, veggie-forward twist. Utilizing the humble plain bagel as your "dough," you can turn a beloved breakfast staple into a crispy, chewy, and cheesy dinner option that's even tastier topped with our Pizza Ranch Mini Chopped Salad Kit. This chopped kit features red and savoy cabbage, green leaf lettuce, shredded broccoli, carrot, cheese and garlic crouton crumbles, green onion, plenty of parmesan cheese, and a creamy, zesty pizza ranch dressing. You won't find these at your local pizzeria (or your frozen food aisle).
Ingredients
3 plain bagels, sliced in half 

¼ cup pizza sauce

1 cup shredded mozzarella cheese

¼ cup mini pepperoni
Directions
Preheat the airfryer to 375°F.

Assemble Pizza Ranch Mini Salad Kit and set aside.

Spread pizza sauce on bagels, top with shredded mozzarella cheese and pepperoni.

Air fry for 3 minutes until the cheese is melted and golden brown. 

Top bagel halves with the contents of the Pizza Ranch Mini Chopped Salad Kit and enjoy!
Kitchen Makeovers: Plain Bagels Edition
While the humble plain bagel is a classic breakfast staple, it's actually pretty versatile—as evidenced by its ability to transform into a delicious pizza in a matter of minutes. Still, there are plenty of other ideas you can try out with your trusty, delighfully plain bagels. 
Here are a few to help get you started:
Sweet Bagel French Toast
Let's start with a breakfast idea that's a surprising twist on two favorites: substitute traditional bread with bagels for your French toast. Just soak your bagel halves in a sweet custard mix of beaten eggs, milk, vanilla extract, and a dash of cinnamon. Pan-fry until golden brown on both sides, then top with powdered sugar, fresh berries, and a drizzle of maple syrup. Who knew? 
Bagel Paninis
As it turns out, the ever-versatile bagel can also step in as a panini. Press grilled chicken, sharp cheddar, and a swipe of chipotle mayo between your bagel halves. Heat in a panini press until the cheese is melted and the bagel has that oh-so-pleasing crunch. It's the perfect blend of textures and flavors that'll have you forgetting bread even exists (maybe just for a few seconds). Feel free to switch up the protein and toppings — it's your panini, your rules. 
Bagel Salad Croutons
We'd be remiss not to mention an idea for a salad. Why not add a little crunch to your greens with some bagel croutons? Cube your bagels and toss them in olive oil, garlic powder, and a sprinkle of sea salt. Bake until crispy, and use them as a garnish for your salad. Homemade crunch! 
Bagel Bread Pudding
Bagels for dessert? Yes, please. Mix cubed bagels with a sweet custard of eggs, sugar, vanilla, and maybe a splash of bourbon if you're feeling adventurous. After baking, you'll have a unique dessert that's sure to impress, even if just yourself.
By all means, don't feel restrained to just these recipes. Plain bagels are the perfect blank canvas for your next culinary creation. Happy cooking! 
TRY MORE RECIPES
Put those abundant holiday leftovers to better use with this festive Leftover Thanksgiving Raspberry Bowl recipe featuring our Raspberry Crisp Salad Kit.
See Recipe
A quick, protein-packed meal with a cajun twist—Enjoy this modern salad recipe made with our Maple Bourbon Chopped Salad Kit and maple bourbon chicken.
See Recipe
Skip the bun and load up your bowl with this easy Creamy Dill Pickle Twisted Burger Bowl recipe made with our Creamy Dill Pickle Chopped Salad Kit.
See Recipe