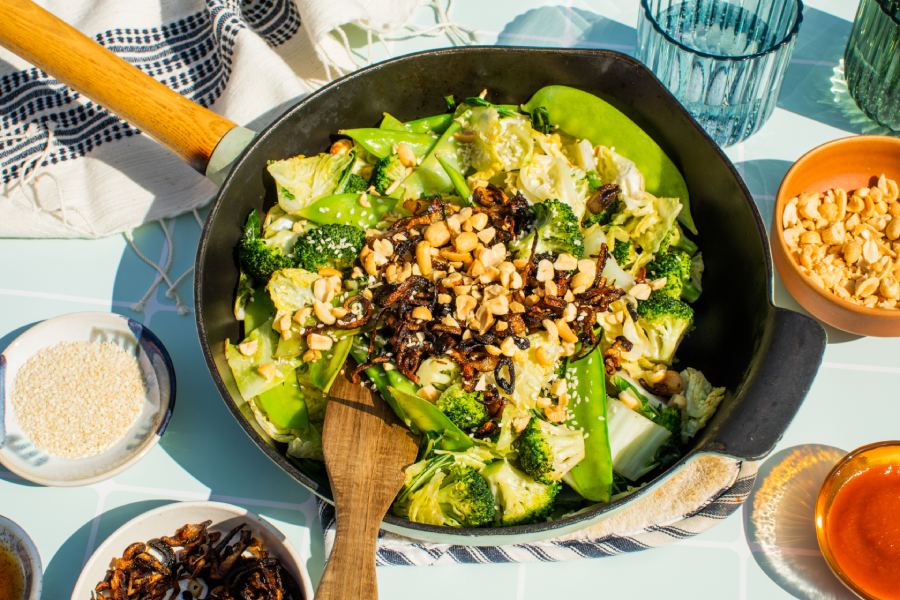 SAUTéED BOK CHOY AND VEGGIES WITH SOY SESAME DRESSING
---
Enjoy this healthy kick of Asian flair with this recipe for Sautéed Bok Choy and Veggies with Soy Sesame Dressing. Start with the Taylor Farms Bok Choy & Veggies meal side-kick, which has a hearty blend of bok choy, broccoli, cabbage, snap peas, and green onion. Of course, you can roast or steam these veggies, but this time you'll be sauteeing them until they are tender and slightly carmelized to bring out the flavor in a dramatic fashion. Afterward, you will top it off with shallots, crushed peanuts, and Sriracha or hot sauce. The final touch will be your homemade soy sesame dressing featuring soy sauce, sesame oil, rice vinegar, honey, minced garlic, grated ginger, and salt and pepper.
These veggies adapt well to added proteins like shrimp, beef, pork, chicken or tofu, so feel free to add your favorite right on top. And, since they are pre-washed and pre-cut, your prep time should be only a few minutes. You can also pat yourself on the back for the health benefits of bok choy, which is an excellent source of vitamin A and C, as well as antioxidants to keep your immune system running at top form.
Serves
4 Total Time
25 minutes
Ingredients
2 Tablespoons vegetable oil

1/4 cup crispy shallots (store-bought or homemade)

1/4 cup crushed peanuts

1 Tablespoon sesame seeds

Sriracha or hot sauce (for serving)

Salt and pepper to taste
Soy Sesame Dressing:
2 Tablespoons soy sauce

1 Tablespoon sesame oil

1 Tablespoon rice vinegar

1 Tablespoon honey

1 clove garlic, minced

1/2 teaspoon grated fresh ginger

Salt and pepper to taste
Directions
Heat a large skillet over medium-high heat and add 2 Tablespoons of vegetable oil.

When the oil is hot, add the contents of the

Taylor Farms Bok Choy and Veggies

package to the skillet.

Sauté the veggies, stirring occasionally, for about 5-7 minutes or until they are tender and slightly caramelized. Season with salt and pepper to taste.

In a small bowl, whisk together the soy sauce, sesame oil, rice vinegar, honey, minced garlic, grated ginger, and season with salt and pepper to taste.

Transfer the sautéed veggies to a serving dish. Drizzle the prepared soy sesame dressing over the sautéed broccoli in the serving dish. Sprinkle the crispy shallots, crushed peanuts, and sesame seeds over the top of the dressed veggies.

Serve the sautéed bok choy and veggies immediately, either as a side dish or a light main course. Provide Sriracha or hot sauce on the side for those who enjoy an extra kick of spice
Bok choy: a symbol of prosperity
Bok choy, a type of Chinese cabbage, is one of the oldest cultivated vegetables on earth. It literally translates as "white vegetable" and is a famously versatile ingredient for Asian-inspired cooking. It also happens to be a perfect candidate for vertical farming in countries where farmland is scarce, and can be stacked and grown in towers over 9 meters tall. In fact, close to a half-ton of bok choy is harvested each year. Bok choy originated in China along the Yangtze River, and eventually made its way to Korea and on to Southeast Asia, Europe, and North America via Chinese immigrants. 
TRY MORE RECIPES
Need a new fall favorite? Try this innovative dish made with our Sweet Kale Chopped Salad Kit, pearl couscous, and delicata squash.
See Recipe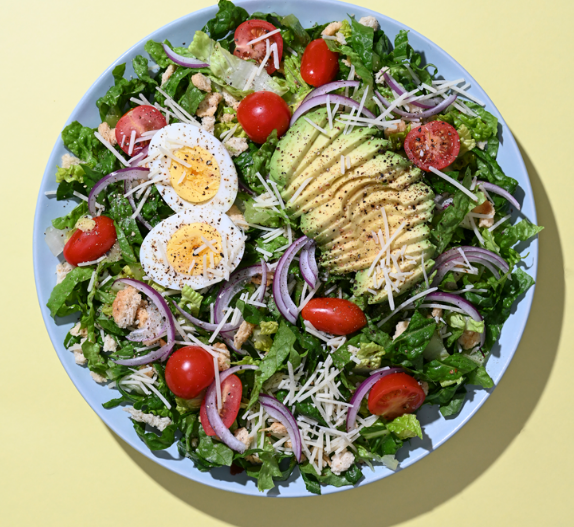 Looking for an easy way to spruce up your next Caesar salad? All you need is hard-boiled eggs, cherry tomatoes, avocado, and a bit of red onion.
See Recipe
A unique dish that's perfect for holiday meals or any dinner table that needs brightening! Enjoy this Apple Cranberry Walnut Butter Leaf Salad recipe made with our Sweet Butter Blend Salad.
See Recipe