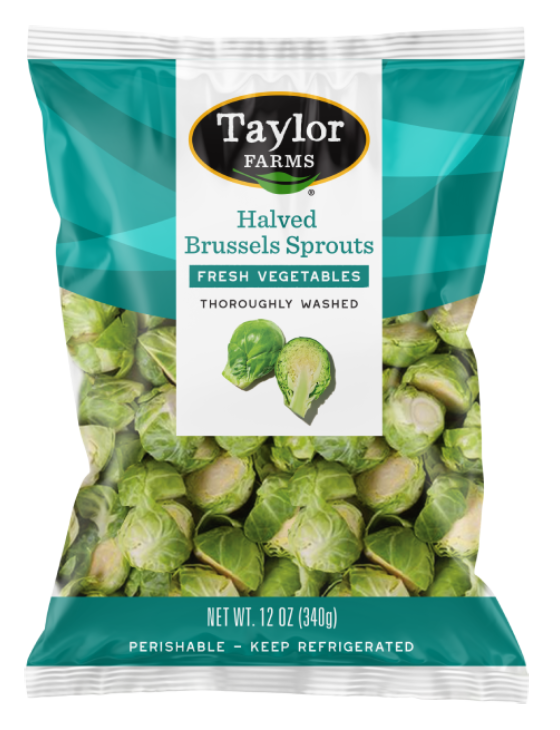 Halved Brussels Sprouts
---
What's better than fresh Brussels sprouts that are already washed, trimmed, and ready to prepare directly out of the bag? Brussles sprouts that are also already cut in half! No need to handle and cut each of these beautiful green veggies yourself because we've taken that laborious act upon ourselves. They're all set to get that perfectly caramelized sear that takes your favorite cruciferous produce to the next level. 
Product Features
Washed, trimmed, halved, and ready to use

All natural

Sustainably grown

Only 45 calories per serving

Recipe-ready

Packaged in recyclable plastic
MORE ABOUT Halved Brussels Sprouts
The process for a fantastic saute on these is fairly simple: when cooking in a medium-hot pan with oil (or butter, or a mix of the two if you're feeling adventurous!), place each sprout cut-side down and allow to sit for just under five minutes to get a golden-brown sear. Then gently turn them over using tongs or a fork. You can finish cooking them by either letting them saute on the other side for a few moments, or you can add a bit of liquid. To do this, cover and simmer the Brussels sprouts in a stock of your choice on low heat for a few extra minutes and finish with a bit of butter and lemon juice.
Just because these Brussels sprouts are halved doesn't mean you have to sear them. You can also steam them, roast them, bake them, or any other preparation that suits your tastes — the convenience remains the same. For best results, keep refrigerated and use within a few days.