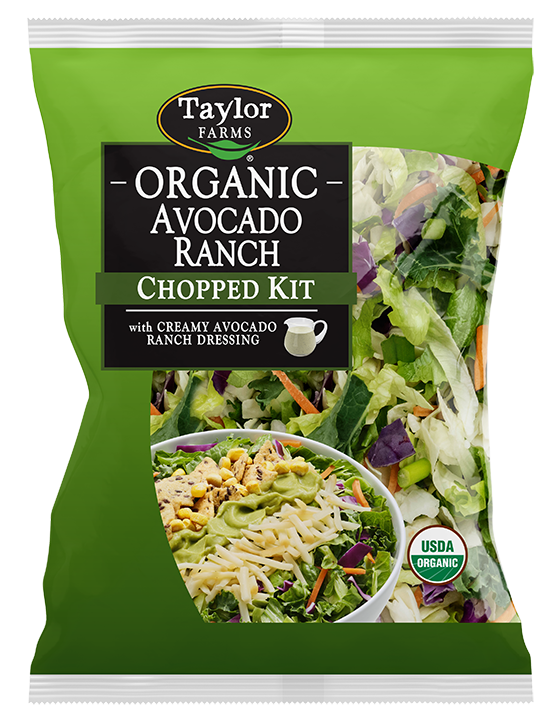 Organic Avocado Ranch Chopped Salad Kit
---
Looking for a tasty, filling salad to satisfy your avocado craving when avocado toast gets a little old? This salad will do the trick! Crunchy fresh romaine, cabbage, kale, and carrots are mixed with savory smoked white cheddar, creamy avocado puree, crunchy corn flax chips, and crispy corn will satisfy those avocado toast cravings. Topped with a delicious avocado ranch dressing, this will soon be your favorite avocado-licious meal!
This product is currently out of rotation, but may be coming back soon!
Product Features
Complete salad kit, including unique toppings & dressing

Washed and ready to enjoy out of the bag

Assembles in less than 3 minutes
MORE ABOUT Organic Avocado Ranch Chopped Salad Kit
Use this ready-to-assemble chopped salad as a side for your favorite protein, or place some grilled chicken or chimichurri steak tips on top for a complete meal. You'll find a range of flavors and textures that check all the boxes.
What makes avocados so special? Not only do avocados supply vitamins E and C, they also provide "good" fats (1 g poly and 5 g monounsaturated fat per serving), which can help reduce blood cholesterol levels if eaten in moderation. What makes this salad so special? It comes with avocado ranch dressing, yes, but also an avocado puree you can gently fold in as well. Enjoy!
TRY OUR RECIPES
Skip the sandwich with this BLT Organic Avocado Salad recipe featuring our Organic Avocado Chopped Salad Kit. A deconstructed take on a classic dish.
See Recipe